Meditation for Beginners


TAKE CONTROL WITH MEDITATION FOR BEGINNERS

GAIN LIFETIME ACCESS TO OUR 
MEDITATION FOR BEGINNERS PORTAL 
TURN YOUR DISTRACTED MIND INTO A GUIDED MISSILE!
Improve your focus with our beginner's package 
of meditations designed to help you: 

Win the daily battles

Eliminate self defeating behaviors

Stop feeling overwhelmed 
Start achieving goals
Take control of your thought life
If you've never meditated before, or maybe you tried it elsewhere but just couldn't get into practicing meditation every day on your own, we encourage you to try out our beginner meditation videos. We think you'll find our method easy to follow, relaxing, and helpful to giving your mind an opportunity to recharge - even if only for a few moments - before moving on to your next task.
So if you're new to meditation, where do you begin? Well, to start, hopefully you tried out the meditation practice contained in the video at the top of this page. If you didn't, scroll up and hit play. The meditation starts at 2:01.
Feel free to sample a few more meditations, featured on this page. But know that if you are serious about taking control of stress, anxiety, and other self-defeating habits, you must make meditation a daily practice. 
Souletics® the Mindset Coach would like to help you cut through the noise and sail above the storms each day with our powerful meditation and mindset program. If you want to train your brain to handle anything life throws at you, this is where you begin.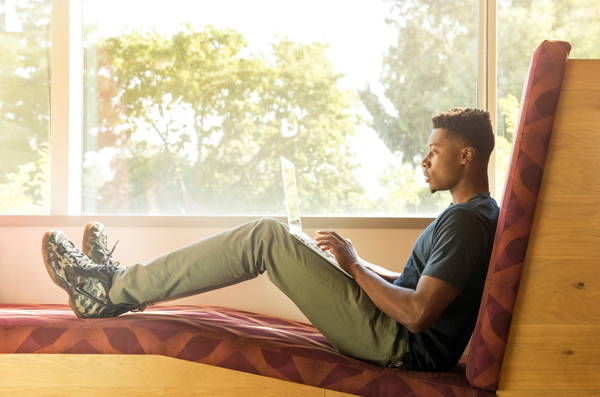 We've all experienced one of those days when everything goes wrong. You wake up late, the hot water doesn't work, you can't find your keys so you ride your bike to work... and then, to top it all off, you get caught in an unexpected rain storm.   
No one can control everything the day brings. And in today's world, every day can feel like an obstacle course filled with the demands of work, family, home, and an overload of information coming at us from every possible direction. 
The only thing you truly can control in today's stressful environment is whether you crack under pressure, or sail above the storm. A daily meditation practice can equip you to sail.
But don't just take it from us, here's what people are saying about our program...
MEDITATION AND MINDFULNESS FOR BEGINNERS:
Take control of your situation and your mind with our Beginner's Meditation and Mindfulness Program.
This program will give you a full year of access to guided meditations on subjects such as stress, anxiety, 
sleep, building confidence, managing anger, and teaching mindfulness to kids. 
GET access to our 21-day course designed to help you become more aware and mindful of your environment, 
helping you make better decisions and identify any bad habits or thought patterns that have been holding you back. 
Learn the strategies, tips and secrets to build confidence and overcome your own personal challenges.
act now to take advantage of our
Check out in the next 15 minutes to get 50% off our Beginner's Meditation and Mindfulness Program